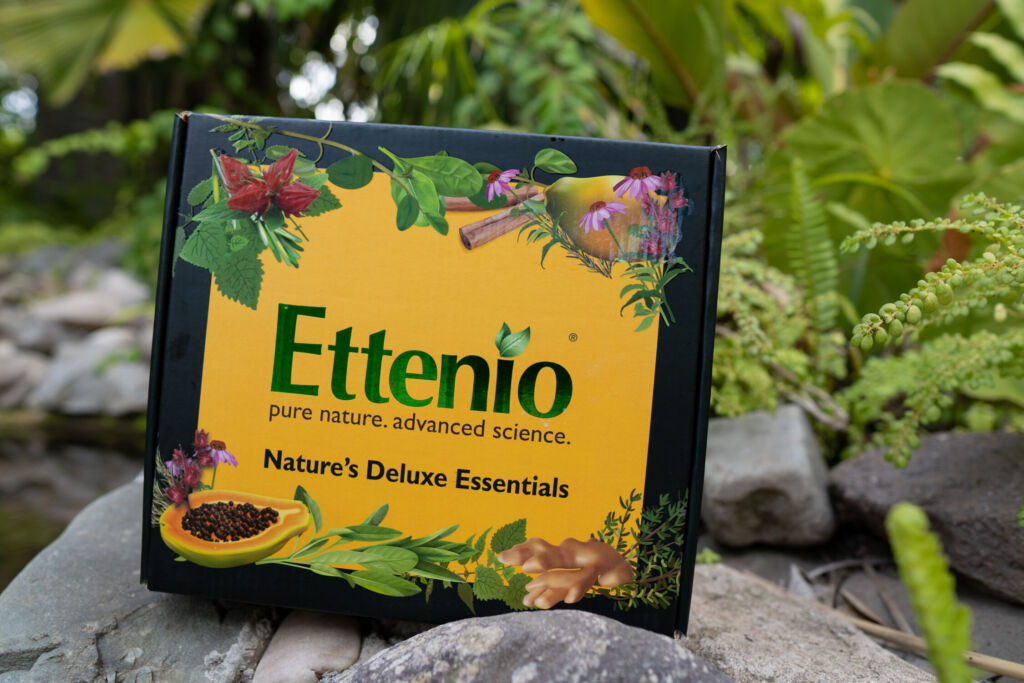 Surprise! If you haven't already heard, Ettenio has launched a brand new discovery box called "Nature's Deluxe Essentials". This kit will help you to have the full skin and hair care experience with five of some of our most popular products, as well as some hidden gems.
This box is something that I've wanted to do for quite some time. After the success of our mini-skincare kits last year, our team was keen on offering something similar for other products that are loved by the Ettenio Nation, as well as some that you may not be familiar with.
The box includes the ultra-rich Creme de La Creme moisturiser, and the Balm in Gilead, one of our most popular skin treatments made for rough skin and conditions like eczema. 
It also has the popular Bath and Body Oil, the Pineapple Papaya Exfoliating Face Scrub, which has gentle physical and chemical exfoliating properties to remove dead skin cells, and finally, the Healing Foot Soak. In this box, you're getting skin and hair care from head to toe!
How to use the Nature's Deluxe Essentials Kit
Now that you know the contents and the inspiration behind the box, I wanted to give you some ideas on how to use each product. I curated the box with the vision that you would use each product, and get the same amazing results that you would receive with the full-sized version. 
The Creme de la Creme is a luxurious cream moisturizer for hair that's made with a selection of butters geared towards moisture, repair and protection. As the name suggests, it's the ultimate moisturiser!
A favourite in the Natural Hair Community, this moisturizer boost curls through aloe vera and marshmallow extracts. You can expect the decadent fragrance of rich shea butter, cocoa butter, and coconut oil with hints of earthy castor and avocado oil in this formulation.
How do you use it?
Section your hair and use the moisturiser from root to tip to get its full benefits, then follow with a sealant like the Seal and Shine Serum. A little goes a long way!
The Balm in Gilead has reparative factors that make it a stand-alone remedy for minor scrapes, cuts and skin conditions. Customers with eczema, dry skin and other dermatitis conditions always have the Balm at hand.
Enriched with Vitamin E and Hyaluronic acid, this balm sinks beneath the skin and increases cell repair and regrowth. 
How do you use it?
Apply thin layers of the Balm in Gilead to your areas of concern – this works best on freshly cleansed skin! You can try the Jamaican Sorrel Body Wash or Black Raspberry Body Wash. 
You may not be familiar with our foot soak, however, it has a reputation among spa enthusiasts that is second to none. Formulated with healing salts, essential oils, and active plant extracts, this soak boasts immediate muscle penetration and tension relief. Do you have muscle or bone pain? This product is perfect for you. 
How do you use it?:
I invite you to prepare this in some warm water and soak your affected area.
One of my everyday favourites! The lightly-fragranced Bath and Body oil is an experience in decadence. The blend of carrier and essential oils promise smooth glowing skin that has a supple, baby-soft feel. 
Argan and hazelnut oil provide nourishment and protection for your skin and carrot oil helps to remove blemishes and conditions your skin from below the surface.
How do you use it?:
Use the Bath and Body Oil on damp skin after you head out of the shower. If you have extra dry skin, follow with a body butter like the Jamaican Sorrel Body Creme Meringue.
The Ettenio Pineapple Papaya Exfoliating Face Scrub stands in a class of its own as one of our best sellers in the skincare category. Hailed as an 'eraser' of blemishes, this scrub is a constant in my skincare regimen. 
When used regularly this scrub improves skin tone, evenness and pore size. The active ingredients range from fruit and herb extract to minerals and essential oils, so you can expect a light fruity smell when you open our Pineapple Papaya Exfoliating Face Scrub.
How do you use it?
Use the scrub 1-2 times a week after cleansing, then follow with a toner like the Chamomile & Rose Hydrating Toning Mist or Green tea Cucumber Toning Mist. Follow with a moisturiser like the Age Defy Rehydrating Moisturiser or the Daily Rejuvenating Moisturizing Serum. Remember to pick the right product for your skin type, reach out to us in the chat if you're not sure what it is.
That's it!
I know that you will be pleased with this skin and hair care kit, we're so happy here at Ettenio to launch it.
We want to hear from you, send me an email at [email protected] or a note in the chatbox to let me know how you feel about the Nature's Deluxe Essentials Kit, and what you want us to do next.
Enjoy, Ettenio Nation!
Antoinette