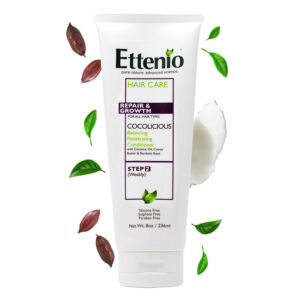 Quick View
Healthy hair starts with a balance of Protein and Moisture.   This delicious blend of Cocoa Butter and Coconut oil provides dry hair with much needed moisture from the cuticle to the Cortex. Cocoa Butter wraps the cuticle, while coconut oil penetrates deep into the cortex.
A balance is reached when Silk protein and Wheat protein combines with these moisture rich emollients.  It means your hair is at its optimum best, and will live in hair heaven as Cocolicious keeps the hair in perfect harmony until your next wash day.
Directions: After shampooing hair, towel dry and apply a small amount of product to hair. Cover with a plastic cap and sit under the dryer for 10 minutes.  Rinse and apply Ettenio Twenty Four 7 Treatment, and 2-3 drops of Seal & Shine Serum and style as desired.